Early 20th Century Photographs
from the collections of Roger Vaughan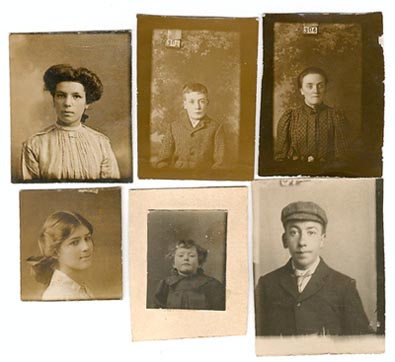 actual size
In every collection there is a small amount of dross left in the bottom of the drawer - well here is mine! - I do not fully understand what they are, but they appear to be early 20th century, and from some sort of photo booth? they have numbers above their heads 302, 304. Some were taken by The American Midget, 11 Lime Street, Liverpool (unreadable Theatre Blds). The small size of these (2 inches by 1 inch and a half) makes me wonder what they were for? Just a cheap format perhaps. [I am told that they were suitable for cutting up and putting in lockets]
A small format CDV by Madge, at Morriston [Swansea, S.Wales. UK] is unusual as it is only 2 and a half by one and a quarter inches.
Next are three unmounted thin photographs of reasonable size (4 1/4 by 3 1/4 inches), one looks taken in a studio and the others perhaps taken using some sort of early home camera? - if any of this means something to you, let me know.



ODDS AND ENDS
scanned at a larger size (about 35KB each)
Small format photo of a lady early 20th century
photograph
Small format photo of a boy wearing a cap early 20th century
photograph
Small format photo of a child early 20th century
photograph
Small format photo of a lady by the American Midget, Liverpool, early 20th century
photograph
Small format photo of a boy by the American Midget, Liverpool (Colins Photo for Aunt) early 20th century
photograph
Small format photo of a lady (Ada)early 20th century
photograph
Small CDV format photo of a gent (April 12th 1901)
photograph
Non-studio photo of a lady holding dog by a house window early 20th century (winter)
photograph
Non-studio photo of gent holding dog (Airedale looking terrier ) by a house window early 20th century (winter)
photograph
Studio portrait of gent (Percy Bristow) early 20th century
photograph




Return to homepage








&copy R.F.Vaughan 2002