Jennie Elstob's Autograph Book
in the collections of Roger Vaughan

An early 20th century autograph book owned by a young lady Jennie Elstob. it is typical of the time in that it has no famous people but comments, poems and drawings done by friends and family. Photographs of Jennie are on the previous page.



Her daughter Olive Mary Lambert's Autograph book is here: Olive's Book 1936-40



---



'This is my album'
Jennie Elstob
July 28th 1909



Why is a Mother like a flower?
because; you never know her value -
till she's under the soil,

A.E. Calvert March 20/xx

[Note: date cut off]


The End of the Onions

We are all cut up in slices,
Thick and thin, in queer devise's
And we're nothing like the chaps we used to be,
We are so mixed up together
That it is quite uncertain whether
I, the teller of the tale, am really.


We have lost our clothes for ever,
And I fear that we shall never,
Nevermore grow manly whiskers on our chins
Yet the girl who spoilt our beauty
Did it only as a duty,
And I saw that she was sorry for her sins.

For her eyes grew very tearful
When she saw that we were fearful
And her face was full of pity for our pain,
And if anything can cheer us,
It's the thought of sympathetic Mary Jane.

Lily Morrow.
Oct 19th 1908.

[Note: Rumour has it that Lily drowned herself at Stockton-on-Tees, her husband Fred Lambert later remarried].



Oh! better far to climb the toilsome height,
Than linger in the valley's flowered way;
Far Better in a losing cause to fight
Than feel one's sinews wasting day by day -
To taste the hemlock bitter, face the night,
Than die this daily death of apathy.

Mabel Knight
Dec 10. 1910.

[Note: not happy then]

The world is a bundle of hay
Mankind are the asses who pull
back pull in a different way
And the greatest of all is
John Bull
HSN

[Note: Bull was a family name]

Look Not I now upon the wine when it is red,
When it giveth its colour in the cup,
At the last it biteth like a Serpent
And Sluigeth like an Adder.

W. Hall



And a young man of Keldale
Called here one fine day
The day came to a close
Then home he mus't go
After spending a most
Pleasant Day.

[Note: not signed]

Time go's like Greased lightening
While visiting Mrs Elstob
I know it did on 25.9.10

L. Nettleton.

[Note: visiting Jennie's mother - I should think)


26 March 1918
Parting is such sweet sorrow,
I could say goodbye till it be morrow,
Yet, to part would be much to keen a pain to
think we ere would meet again.

K. Burns
(Nurse)

[Note: not clear who was in hospital - but 1918...)



A Wish

What shall I wish thee young friend of mine,
Plenty of peace, and calm and wine,
These if Gods will, but thine be grace,
The sunshine of thy saviour's face,
The shelter of his hands.

E. Morrow
Whinney Hill
18th Oct 1908.

[Note: Probably a relative of Lily above]

Sunset

The golden sea its mirror spreads
Beneath the golden skies,
And but a narrow strip between of land and shadow lies.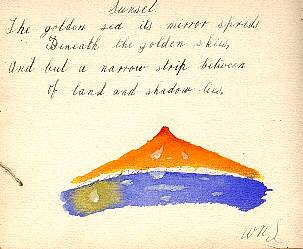 W.N.L

[Note: Jennie's husband William Norman Lambert]


Oh primrose time is pleasant -
But September is the best,
When the purple berries cluster round the robin's nest,
And nuts are on the hazel and acorns on the oak,
And the shady woods are tempting,
To the Shyest fairy folk,
Out then, quick then, berry pickers all,
Through brambles thorns may prick you and a rain shower fall.

Bertha Morrow
Oct 1908.



I've looked thro pages all & all
To see what others wrote before
Here is this lonely little spot
I here inscribe 'For - give - me - not'

L Hoggart
13/6/10

My love to all those that I love
My love to all those that love me
My love those that love those that I love
And to those that love those that love me.

Cissie Morrow
Oct: 19th 1908.




It's a very good world to live in.
To lend, to spend or to give in,
But to beg or to borrow or get ones own,
It's the very worst world that ever was known.
Anon.

T.Wilson
December 5th 1909.


The women tell me every day
That all my bloom has past away
'Behold', the pretty wantons cry,
'Behold this mirror with a sigh;
The locks upon thy brow are few,
And, like the rest, they're withering too!'

Whether age-time has thinn'd my hair,
Im sure I neighter know nor care;
But this I know, and this I feel,
as onward to the tomb I steal,
That still as death approaches nearer,
The joys of life are sweeter, dearer;
And had I but an hour to live,
That bitter hour to bless I'd give.

Nurse Ridley
'Dene House Hospital'
Newcastle-on-Tyne.
March 25th 1918.


Rose of the Desert
[10 lines of poetry ...]
Rose of the Garden; such is woman's lot. -
Worshipped, while blooming - when she fades, forgot.

Nurse Ridley
1918.


A Misapprehension

'How about some lamb, madam?' - ' Not today thanks'
'I could pick you a nice little leg, just your size' - 'Mr Cleaver how dare you!'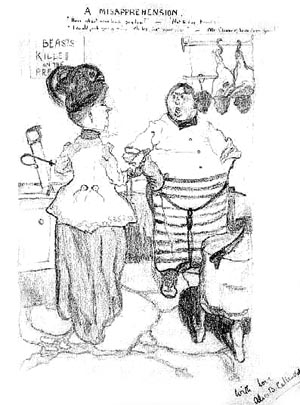 With Love
Alice B. Callender.

[note: Like seaside postcard humor]


I dont give a jot
What any poet said
Be it ever so humble
There's no place like bed.

E. Higgins
26/3/18


This world is not so bad a place
As some would try to make it;
Though whether good or whether bad
Depends on how we take it.

Douglas Walker
Long Newton
7/17/09


'Well, upon my word! After all the trouble I had to to get a quarter of a pound of butter,
the cook has sent up the margarine.
I should hate the maids to go short, but I DO think we ought to SHARE things'

Mabs.
1918.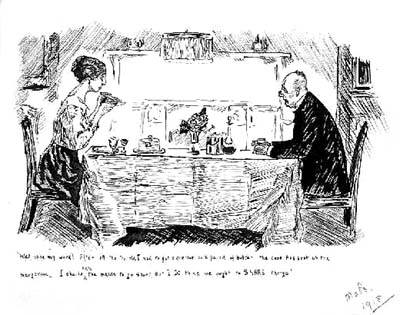 [Note: Probably reflecting the difficulty keeping servants after the war]

'I care not much for gold or land;
Give me a mortgage here and there,
Some good bank stock - some note of hand,
Or trifling railroad share;
I only ask that Fortune send
A little more than I shall spend'

A Farmer's Notice in his Orchard.

'Heaven helps those that help themselves,
but heaven help those that I catch helping themselves'.

Percy Laing
Porton
Jan. 1909

[Note: both above in same hand]


What! write in a book
Where poets look?
And critics spy,
No! not I - I'm S-H-Y. (?)
Goodbye!
Yours sincerely
Alice M. Boyd.
4.7.1910

Hair was made to crimp and curl
Cheeks were made to blush
Eyes were made to rove about
Lips were made to (Oh Hush)

L. Hoggart

Two in a Hammock attempted to kiss,
In less than a minute they landed like (This)
L.H.
12.6.1910

[Note: 'This' was upside down]

'God's in his heaven
All's right with
The world'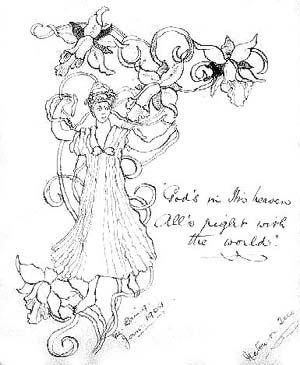 M. Laing
Jan. 1909
Stockton-on-Tees

[Note: written like Norton-on Tees]


A fiery temper it is said
Smoulder's in tresses that are red
But there are people who admit
They like a nice hot time of it

T.Morrow
April 1910.


Just Today
'Do not save your kindness
For to-morrows sky,
For the souls who need you
Now are passing by;
Live your best this moment,
That's the better way;
Serve the Christ with purpose,
Just today, today'.

Sophia J.Walker
Long Newton
April 4th 1909


May is a peach, they say.
Well, she is one, I'll own.
Her face is like its blush
Her heart within - a stone.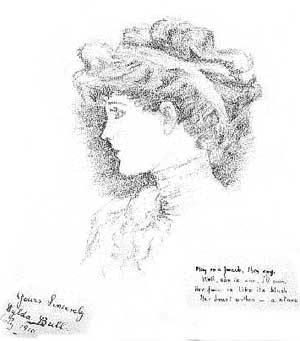 Yours Sincerely
Hylda Bull
July 1910.

[Note: could be a sketch of Jennie by Hylda]


'Sing On Little Birds Sing On'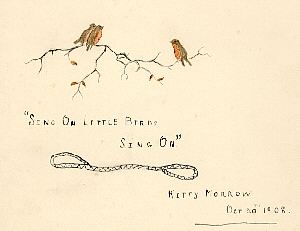 Kitty Morrow
Oct 20th 1908


When on a lonely path you've got
And may purchance you see
That little flow For-get-me-not,
Pluck it & think of me.
L.H.
[L.Hoggart]


Here with a loaf of bread
beneath the bough, a book
a verse a flush of wine &
thou singing to me in the wilderness,
& wilderness is paradise a now.

K.Burns
(Nurse)
26.3.1918



[pencil drawing]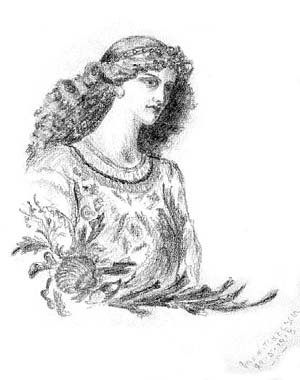 by Nele Mistchelson, 29.5.1918


'Tis only noble to be good
Kind hearts are more than Coronets,
And simple faith than Norman blood'

Ada A. Thwaites
Mar. 30. 1913.


Olive Lambert is her name,
Single is her station,
Happy be the lucky man
who makes the alteration.

By O. Lambert
Bewley Hill
Sadberg
Darlington.
26.4.1935


All thoughts that are pure, Unselfish and bright,
Shall flourish as flowers, In sweet summer light,
And send out their magic, To banish all fears,
Bring sunlight to eyes, So dim with sad tears.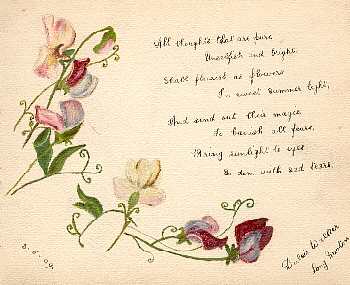 Dulcie Walker
Long Newton
8.5.1909


[Note: Dulcie Walker married Henry Medd on the 10th April 1915 - wedding gift tag]

To catch Dame Fortune's golden smile,
Assiduous wait upon her,
And gather gear by every wile
That's justified by honour,
Not for to hide it in a hedge,
Nor for the glorious privilege,
of being Idependent. R.Burns

Margt Wilson
Yarm on Lees


Our troubles come,
From trying to put
The left-hand shoe
On the right-hand foot.

Gilbert Walker
West Town Farm
Long Newton
15.7.1909


Friendship penned these lines
May memory hold them dear
And often bringing to mind
The friend who wrote them ln.

L.H.

Remember me when this you see
And keep me in your mind
Let all the world say what they will
Speak of me as you find.

L.H.



Patience is a virtue
Possess it if you can
Often found in a woman
But Seldom in a man.

L.H.



A Reflection
There is much for which to be thankful
In this jolly old world of ours -
After the storm comes sunshine
And after the winter comes flowers
If I find a hole in my stocking,
I'm thankful it's not in my shoe!
I'm thankful there's only one war on -
Imagine if there were two!
But oh! I should cease to be thankful
If ever it came to pass
That I looked as I sometimes appear in
A taxi cab looking-glass.

E. Higgins
Dene House
26.3.1918


True Faith

I will not doubt, though all my ships at sea
Come drifting home with broken masts and sails!
I will believe the hand that never fails,
From seeming evil worketh good for me!
And though I weep because those sails are tattered
Still will I say, While my best hope lie shattered
'I trust in Thee'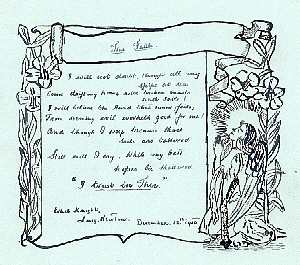 Ernst Knight
Long Newton
December 12th 1910


A Wish
I will not wish thee grandeur,
I will not wish thee wealth
Only a contented mind,
Peace, competence, and health,
Fond friends to love thee dearly,
And honest ones to chide
And faithful ones to cleave to thee,
Whatever may betide.

E.W.M.
14.2.1910




---

Homepage

© Roger Vaughan 2004